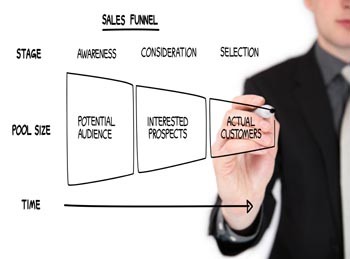 TO MAKE A SALE, there are a few key things that a salesperson should be able to do well if they intend to sell a product or a service.  Moreover, the salesperson should know the people who need to use, and likely buy, the product they are offering.  This is called "prospecting" and involves understanding the characteristics of the potential customer.  If the seller is working for a company, it is likely that prospects for various products have been developed through marketing activities.  If the sales person does not have a prospectus resource, it is important that they come up with a good one.

Once a good prospectus or "lead list" is obtained, the sales person should begin contacting their potential customers.  Make a proper introduction of who you are; then, what you are calling in reference to.  When first calling, be sure to build a rapport with the customer to whom you are trying to sell your product; this will help with giving the potential customer more conformability and offer you a chance to get them excited about your product and service.  The important thing to note here is that you should have good knowledge of the product and/or service you are selling.  This helps in making informed explanations relating to the attributes of the product.  When describing the product, be honest; do not exaggerate on the features.  By not lying, the customer is likely to believe what you tell them.  This casts the professional image of the seller in positive light and this increases the chances of making a sale. 

Another important note: Be nice to the receptionist.  She is the gatekeeper to the person to whom you are trying to speak.  If your contact isn't in his or her office, leave a message.  That way, the next time you call, you can tell the receptionist that you are calling to "follow-up."  Be charming, but don't flirt; the receptionist will see right through you and probably be offended.  Cold calls are, debatably, the most difficult part of business sales.  Like any other skill, it takes practice to be successful, so don't get discouraged if you get shot down when you're first starting out.  Don't take it personally; your contacts don't know you.  Before they learn to love your product, you are just some guy trying to disrupt their current flow of business.  Remember that even if they deny you, treat them how you would want to be treated.  Feel free to try new things.  The worst thing they can say is 'no,' right?  The odds are against you, but with enough practice and persistence, you will be successful.
As the seller, after establishing contact with the potential customer, you should describe the product and/or services in detail.  This is commonly known as a sales presentation and is another area that will take practice and refining.  Aside from the important things to consider while making contact, you should be able to explain how the product will solve the customer's need; part of this is being able to articulate a clear understanding of their problem or need.  Ensure that you focus on the positive attributes of the product first, and then continue in a descending order to other key features.  Engage the customer by giving them an opportunity to ask questions and respond to them.  Don't rush.  Explain the added benefits of the products that are not factored on the cost of the product.  Having done this, finish the presentation on a positive note.

By this time, you should be in a position to know whether the prospect is seriously interested in your product or not.  If the interest is there, listen and note the objections the prospect may raise; respond to them tactfully, and offer clarification in case something was left out in your presentation.  Give confidence to the prospect (depending on the situation) by addressing the fears they have raised or on the inadequacies they raise as objections to buying the product.  This is also a good opportunity for success stories from your other customers.

If you handle that part well, the prospect may be convinced to buy.  At this point, you are in a position to close in and make a sale.  Depending on the product, convince the prospect that what you are offering is a fair deal; explain payment options and anything else that will maintain the interest of the prospect in buying.  Sell the product, but don't be pushy.  After making the sale, it is considered important that the sales person follow-up and review the selling process.  By doing this, it is possible to get instant feedback, which can be used for marketing applications like product improvement and other things.  This feedback is also good to the seller because it helps the seller to evaluate their skills and knowledge and helps them to identify areas for future improvement.

The key to pitching and closing a sale is knowledge and confidence in the product, and genuine honesty.  Don't be shady or dishonest, and don't make stuff up about your product.  If you are selling a product to a distributor, chances are, that person knows more about your product than you do.  If they ask you a question to which you don't know the answer, don't make something up; it will make you look dishonest and unreliable.  If you don't know the answer, just say, "I don't know, but I'll find out for you and get back to you about that soon."  All of a sudden, you've just looked like an honest, reliable guy and have given yourself an opportunity for a follow-up.  Multiple meetings are good because it's another opportunity for you to get to know your customer and for them to get to know you.  Selling is a very difficult part of business, but if you apply the rules above, you will have a much more likely chance of being successful.