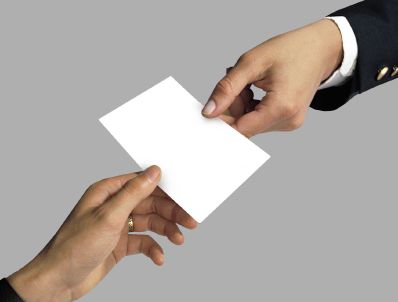 WHEN YOUR CUSTOMERS or clients refer you to others for your services, this is a huge compliment.  This is a great way for a businessperson to build on their current customer portfolio.  It doesn't cost you anything and leads to very easy sales since the person who referred you is highly trusted by the other clients.  Typically, friends refer to friends and since your customer can testify to the high level of quality of your products and services, they would want to refer you to people they know and like.  Most business people do not spend their time asking for referrals; they just worry about where and how they will get them. 

There are several ways that you can get continuous referrals without having to go asking for them.  You need to develop a concrete system for getting referrals without having to ask face-to-face for them.

Below are a few helpful tips to guide you on HOW and WHEN to ask for referrals:
You can start by listing the people who you consider "valued customers" and who do business with you on a constant basis.  From there, you can create an incentive program by paying a small fee or rewarding them with a discount on their next purchase for those clients who help you acquire referrals.  As most people won't help you acquire more customers out of the kindness of their hearts, you must incentivize them.
Ensure that once you get a potential client, you let them know that referrals are a main source in growing your business.  If you do a good job, they may automatically tell you, on the spot, people they know who are in need of your services.
When giving out your business cards or brochures, consider giving the customers extra in order to give to their friends or colleagues who they think may require your services.  Also, consider, when having new cards printed, consider placing a statement like, "The highest compliment our customers can give us is to recommend us to a friend.  We appreciate your referrals!" on your cards.
The best time to ask for a referral is immediately after completion of a task or project.  If the client is pleased with the outcome of your work, you might ask if he knows anyone else you can contact.  Another, less intrusive way, is to simply ask your client to keep your name in mind when talking about the job or project with his colleagues.
While asking for referrals is best done face-to-face, it's not advisable to ask for a referral when you are presenting a bill to a client as no matter how great your work is, most people aren't opened minded and in the best of moods at that time.  Conduct a follow-up call the next day to thank them and let me know you appreciate their business.  From there, ask if they would be willing to provide you with other contacts that you can contact using them as a reference.
If you successfully make contact and start doing business with someone who was referred to you by someone else, contact the first person again and let them know that their referral was a success and that you appreciate it.  Chances are, the new customer already contacted your original customer to ask about your work; this follow-up call to your original customer is really more of a thank-you message. 
The bottom line is that referrals are earned due to someone's hard work and a proven track record of doing good business.  Hence, if you know you have not pleased your client with your work, you have no business asking them for any referrals, nor should you logically expect one.  In order to be confident when requesting a client for a referral, ensure that you have done a satisfactory job for them.