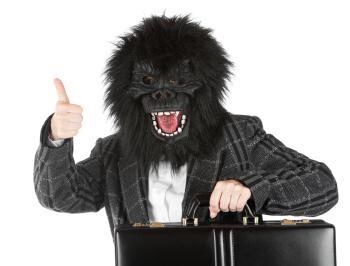 GUERRILLA MARKETING REFERS TO a marketing strategy that emphasizes on the element of surprise.  Guerrilla marketing employs unconventional strategies to drive up sales. This form of strategic marketing first gained popularity in the 1980's.  Guerilla marketing is suitable for both small and big businesses.  There are various types of guerrilla marketing techniques.  The first type of guerrilla marketing is known as wild posting.  Wild posting is a cheap guerrilla marketing technique whereby the company places posters all over the place for maximum attention.

Wild posting is not only limited to offline postings but is also present online as well.  In this scenario, a company may advertise visual and textual messages on sites which have high traffic. This has the effect of boosting sales since many people are aware of what the company is offering.  Another type of guerrilla marketing is known as ambient marketing.  In ambient marketing, a company creates brand recognition without actively advertising the product. This type of guerrilla marketing involves a scenario whereby the company finds a connection to the business and then promotes the connection or aspect without promoting the business itself. Did you happen to notice that in the new Bond films, Columbia Pictures' Casino Royale and Quantum of Solace, pretty much everyone drove either a Ford, Jaguar, Land Rover, or Aston Martin? The reason is because, at that time, Ford Motor Company owned all of those other car companies and paid a ton of money to feature the cars in the films. 

The third type of guerilla marketing is known as presence marketing. Presence marketing follows the same principles of ambient marketing with the difference being that in presence marketing, the business actively advertises itself.  Another aspect of presence marketing is online marketing. Under online presence marketing, information is spread through the use of social networking sites and blogs. A notable aspect of online presence marketing is search engine optimization (SEO), whereby the company ranks highly in pages of major search engines, e.g. Google or Yahoo!.  

Experiential marketing is yet another type of guerilla marketing.  Experiential marketing is also referred to as customer experience marketing and it depicts a situation whereby the consumers are connected to the product through experience.  A vital component of experiential marketing is letting consumers interact with the product before purchasing it.  This is based on the fact that by interacting with the product beforehand, a consumer knows (from experience) the benefits of the product and he or she is more likely to purchase it.  

Presume marketing is another form of guerilla marketing.  Under presume marketing, people need to appreciate the presence of the product.  This form of guerilla marketing seeks to increase exposure of the company's products in public events, TV shows, and in conventions.  Presume marketing is also carried out online through the use of visuals or notes about the product in social network sites.  
The last form of guerilla marketing is known as ambush marketing.  In ambush marketing, a business seeks to undermine the sponsorship rights of another company.  This type of marketing involves creating a false impression whereby the company appears to be the sponsor of the event or product, while it is not.