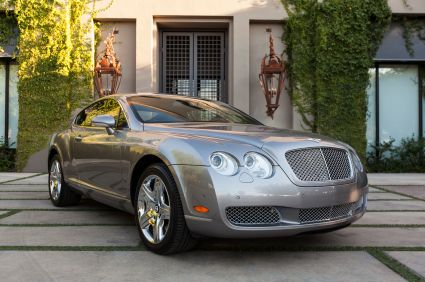 HIGH-PRICED products as opposed to low-priced products: this is an internal debate that business people have within themselves. In this article, we will look at the benefits of selling high-priced products in your business. Though it may not seem that there is a difference between selling high-priced and low-priced products, there are a few. First of all, a single unit of a high-priced product will fetch more profit for the business than a low-priced product. To me, this is the greatest reason to sell high-priced products.

Afterall, how many Toyota Corollas would you have to sell to reach the profit of one Bentley Continental GT (pictured)? We all know Toyota makes a fine product, but it's the labor—that is, the number of sales associates you need to bring in that revenue—that really makes the difference. It is my assumption that all business enterprises are in business to make a profit and therefore, these businesses should be attracted to areas where the profits are highest.

Most high-priced items you can buy are either produced using high-value materials (gold) or are technologically advanced (or both). These products can typically stay in the store for a while, but in the end, they will be bought. This may not be the case for low-priced products; once they go bad (expire), they cannot be sold and will require disposal. The majority of low-priced products fall into this category and therefore, the business stands to lose more revenue. Another reason why it is more profitable to stock high-priced goods is because they have a larger market share when you compare them to low-priced products.

Think about an item like a high-end smart phone. It is heavily advertised before its release. People save up for it. You can predict that people will buy this product in large numbers and can therefore stock up. This will enable you to be prepared when the phone is officially released. You are bound to make a decent profit from the sale of these items. If you were selling low-priced products, this would rarely be the case. First of all, these products do not take a lot of resources to manufacture or process and, therefore, they won't make an impact on the market. The second reason is that a majority of these products are already in the market and, therefore, they have brought about no significant difference. The demand for the products will be the same and there is no way for the entrepreneur to make a huge profit.
Though high-priced products are not always in demand throughout the year, it is possible to determine when they will be on demand and stock up. This is why many high-priced product selling businesses make much more profits than their low price products selling counterparts. For this reason, people seeking to start businesses with adequate capital should venture into the high-priced products niche. They are bound to make more profit here and have the ability to expand their business. These are the objectives of a serious business and it would make more sense to pursue the path that leads to the fulfillment of these objectives.