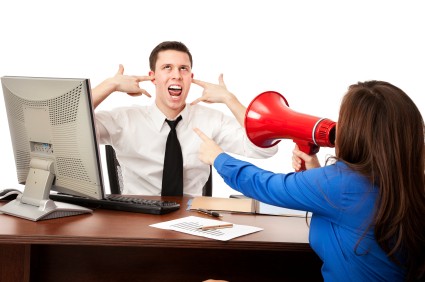 IF YOU ARE preparing to go into business for yourself, you need to be ready for challenges because this is one industry that is extremely competitive.  One challenge that many people in the business industry face is criticism.  This may be a negative thing but if you capitalize on it, you can have your business escalate tremendously.  If your business is lousy, the criticism rate will be high.  If you are a good business person, you should take criticism as an opportunity to perform better.

Here's the thing about criticism: If the criticism is true, then take it as a lesson to learn and take action to improve on your shortcomings. If the criticism is false and someone is just trying to defame your business' character, it's called slander (if it's spoken, or libel if it's written) and can be punished judicially in court through a law suit. Either way, you have the possibility of benefitting from it, as long as you play your cards right and leave your personal feelings at the door.

Many people who have succeeded in the business industry have attested having capitalized on criticism.  Your reputation as a business person can be negative or positive.  With the advent of Internet technology, many businesses have come up with websites for easy operation.  A visit to these websites will expose you to criticism.  If you have a website and you receive criticism, you don't have to take it negatively.  You need to treat criticism as a way of identifying mistakes.  Reading through the criticisms will help you know the leaking parts of your business.

At one point, you will encounter a case where people disagree with the information that you share or the kind of business you are in.  What is important when you face criticism is to use it to improve the performance of your business.  There are a number of customers who may offer you constructive criticism about your business.  They will normally post this criticism on your website or leave a comment card at your place of business.  If you utilize this information, you will be in a position to improve on the productivity of your business.  People who write criticisms have a point they are trying to pass to you.  This is why you need not overlook this criticism.

Criticism will help you look at your business in a fresh way.  However, you need to be keen on how you approach the criticism, otherwise it can bring down your business.  If the criticism is destructive, it can lower your self-esteem, hence killing your business' morale.  If you are not keen, it can lower your business' efforts.  With negative criticism, your positive attitude will be killed.  You need to act as a professional business person so that you get your business going.
When your business is faced with criticism, you need to have a reasonable response.  As bitter as the criticism could be, you need to restrain your emotions. Otherwise, you will tear your business apart.  It is good to step back before you respond to criticism.  You need to remember that criticism is a response to what you are offering.  If you think the criticism will not in any way help, you have the right to reject it and forget it ever happened.  You are not obligated to accept anything anyone says.  Get to know the different kinds of criticisms and how you can best use them to better your business.  Take care so that you are not caught up in cycles of criticism and forget the objectives of your business.