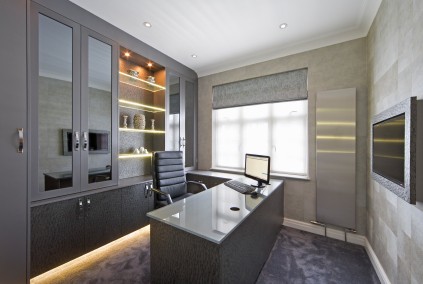 THE HOME office has become a source of livelihood for many people across the world. It is no longer a small space that is relegated to the basement corner or inside a small closet. As more and more people become interested in working online at home, the setting up of an office at home is becoming much more common than ever.
The average home office features Internet connections, shipping facilities, a fax machine, copier, computer, multiple monitors, and other related devices. If you expect to conduct real business, having a chair and small desk in the corner of your room simply cannot work.  Working at home is, at the present, the ideal choice for most adults. Regardless of the purpose for which you use your home office, whether it is paying the bills or the running of a company, there are several basic things that you need to know.
There are many suggestions of how to set up a home office, but there are only four key facets that cannot be compromised if you intend to conduct serious business at home.
Identify the Appropriate Space
You need to ensure that the home office has sufficient space for working. If the home office space is limited, you will not have many choices. 
For those who will be spending most of the time at the home office, they might prefer more room and better view. You need to identify the space that is not frequently used; a good example is the dining area or the guest room. By use of a computer, printer and filing cabinet for the papers, the workspace can be completely secured. The work space will be capable of extending to an area that is larger.  
Plan the Area of Working
You need to think of all those things that you will need so that you can work efficiently and comfortably in your office at home.  You should begin with the lighting and temperature control. You also need to ensure that that a telephone is installed in the home office.
You also need to ensure that a portable phone is readily available. The desk chair at the office should freely move around. The flooring should, thus, be a hard surface. You need to select window coverings if there is a window in the home office room. The covering should allow the proper lighting in, but at the same time, preserve your privacy and confidentiality.
Place to work on, store books, etc.
You need to have a sufficient place where you can place documents and other working materials; you should acquire a table that has some lockable drawers. Any office needs some privacy and confidentiality.  Your private documents should always be locked in the drawer. Behind the working table and the office desk, you need to have some shelves where you can place books and other documents.
Choose a Comfortable Chair
You need to choose a chair that is very comfortable. The chair should be of the right height and it should provide the proper support for your back and arms. If you're going to invest in one expensive piece of furniture for your home office, my recommendation is the chair.