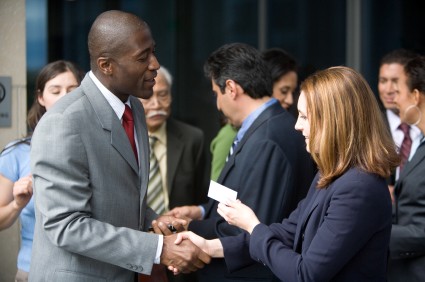 ONE IMPORTANT part of running a business is building networks.  This has been made even easier in this age of Internet networking.  However, there are some individuals who still value meetings that are face-to-face.  Therefore, a business network will depend on its electronic and personal exchanges.  For effective networking, there are some steps that an individual can follow.  These include:

Networking Sites
There are a number of business networking sites that are available online.  One needs to
sign up
in these sites and become active members by submitting articles and by responding to posts from others.  One's response should be as reasonable as possible and they need to show that they are not only willing to learn from others but also to help others.  Apart from technical messages that are sent to network members, one needs to include a personal message so that they may show their genuine interest as they add new people to their list.

Facebook

Networking sites only provide business to business (B2B) networks.  One can also network with different consumers by use of Facebook, Twitter, etc.  When one creates a page, they not only market themselves to their consumers, but also provide an insight on your business. As an individual, interact with people you may not be able to meet but are useful to growing your business.

Business Cards

Although most things are now done electronically, it is advisable for a business person to keep a set of cards that they may distribute personally.  This is a useful tool that can be used to build networks for a business and exchanged when one attends meetings, conferences or luncheons.  One can then follow up electronically.

Formal Introductions

One can also request those who are around them to introduce them to people whom they think will be useful.  This will enable a business person to have a list of those who may contribute to their business as they have similar training or interests, thus avoiding having a list that contains a lot of people.

Associations

A business person should also ensure that he or she joins associations.  One can join two associations where one is specifically relevant to their field and one that has a business nature that is more general.  This will be beneficial as one will be able to meet professionals and experts in their fields and also be able to interact with other business people.

Updates

After one has gotten contacts, they need to maintain them.  This can be done by constantly updating one's profile on various sites so that they can inform their contacts of recent developments.  One can also organize meetings for those contacts who are within their local area so that they may update them.

One advantage of building a successful business plan is that it is an effective marketing tool that is also cheap.  This is because it not only markets and individual and their ideas, but also their business and can be used to attract more customers.  They also provide one with business opportunities where they can expand their business and bring in more profits.