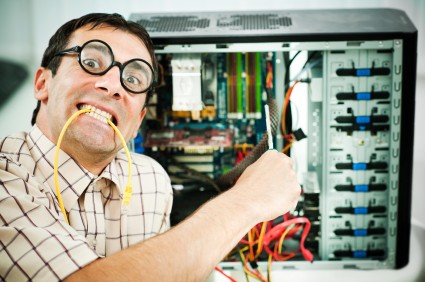 THE WAY in which people work these days is quite different from the old office setup that featured rows of filing cabinets, a typewriter or word processor, a water cooler, a giant copier, and a fichus. Working from home is becoming more and more popular. One of the greatest challenges of the setting up an office at home is space. Some of the traditional office technologies such as printer, filing cabinet, computer, reams of papers, fax, phone, etc., take up a lot of space. These technologies that consume a lot of space should be avoided in the setting up of a modern home office.
Because of the increase in the numbers of people that work from home instead of at the office, new virtual services have been developed. In the past, we have been required to keep huge piles of rolodex reels, stamps and envelopes so as to keep up with the increasing communications and contacts. The sending of text and email messages has, however, significantly reduced the amount of paper mail that is sent and received in business. 
The following are some tips of home office technology that you need:
Mobile Technology
Tablet computers, smart phones, and net books have caused major shifts in the way in which home businesses operate.  With these highly portable gadgets to connect us in our pockets, we are simply spoiled for the choice. We are capable of sending emails, reviewing documents, and editing on the go. For most small businesses, mobile technology will soon replace the post office, fax, phone and desktop computer.
Mail Forwarding, Answer-Phone, and Virtual Office Services
The Virtual Address is perfect for those people who cannot dedicate the space to working from home or those who need to move out of the home environment where they can continue to work in peace. You can thus take your phone and computer and then rent a working desk for a fixed period of time.
Mail and answer-phone services may also be rented.  In most cases, they go together with virtual office packages. They can save money and time for people who work from home and who cannot justify the dedicated answering service of the physical office that has employed staff to do that work. The benefits for some of those industries that need to have professional first impressions are high. A voice that is friendly and professional on the phone will certainly beat the answering machine.
You will also need a virtual landline number, cloud computing and storage, and online storage systems, among others.  You generally need to acquire only what is important for efficient working from home.
 …now that you know the home technology that you need, what is that which you do not need?  In general, anything that isn't necessary for the setting up and functioning of the home office should not be acquired. If you have a widget on your computer that can replace a tangible piece of equipment, then you don't need that other piece of equipment. Calendars, desk clocks, fax machines, laser printers, calculators, filing cabinets, giant stacks of paperwork, etc. can all be replaced by a computer with a reliable high-speed Internet connection and a printer/scanner combo. All of that can be acquired for less than $1,000. If you do a lot of work on your computer managing documents or conducting research, one additional piece of equipment that I would highly recommend is an additional computer monitor. They cost around $100-$300, easily plug in to your desktop or laptop, and make working exponentially more efficient.