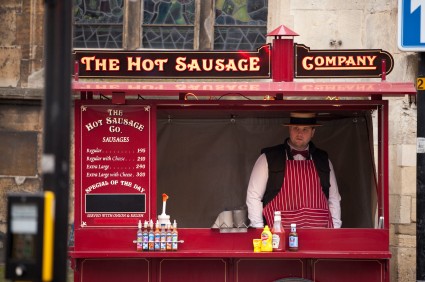 STARTING A BUSINESS by purchasing a franchise often proves easier than starting a business from scratch.  This is simply because when you buy a franchise, you will be getting into a business that is already established.  Doing this will give you a base on which to launch your business.  You will also be offered guidance from the parent company on how you can go on to succeed in business.  In order to choose the right franchise, there are a number of essential tips that you need to keep in mind.

The first thing is to come up with a realistic budget for investing in a franchise.  Once you have the budget, get into the market and look for a business opportunity that falls within that budget. Different parent companies have different "franchise fees," so don't even bother looking at opportunities that are out of reach.  You need to have money enough to take care of the daily expenses of your business.  You need to factor in staff, license fees, payroll, and other expenses.  You need to factor a minimum budget of one year.  If you don't have enough money, you can make use of the same franchise to secure a loan from a lending institution.

When choosing a franchise, it is beneficial to go for one that matches your experience, skills, interest and personal goals.  If you choose the wrong business, chances are that you will not prosper.  Even if you don't have skills, you don't have to worry.  You can still get into the franchising industry and succeed.  The management of a franchise will take you through an intensive training process that is aimed at equipping you with the necessary skills needed to succeed in this competitive industry.  This is an industry that is fast becoming booming hence attracting many investors.  In order to stand out, you need to have basic business management skills.

Beyond your parent company, there are a number of professional companies that are offering franchising consulting.  Before you decide on the kind of franchise to invest your money into, it is good to make use of these experts.  They will analyze your skills and experience to get you into the right franchise that will suit your requirements.  You can get the right business opportunity on the basis of location or industry.  These experts will work with you to get you into a booming business that will see you get your investment back quickly.

It is good to know the kind of advertising methods being used by the franchise you are about to venture into.  Of significance is to know how effective their business plan is.  A business model is the backbone of any business.  This is why you will want to partner with a business that has an accredited and proven business model.  With such a plan, you can be sure of taking your business to the next level.  The business industry is fast becoming competitive and this calls for a need to have an unmatched business plan to stay ahead of the competition.  Making use of a franchise that has been in the industry for awhile will be advantageous.  This is because it has harnessed enough experience to give you the right pace of venturing into business.