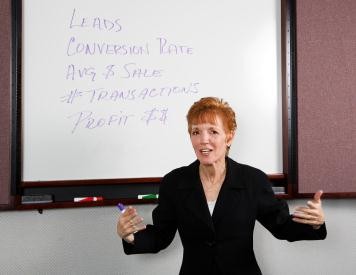 BUSINESS MARKETING CONSULTANTS help to improve sales for businesses through stepping up the business' current marketing techniques and bringing their specialized wealth of knowledge to companies in need.  This is especially important to newly established businesses looking for marketing methods to help them launch and get off the ground.  Equally important is it to companies in highly competitive industries in order to stay at the cutting edge of the fight for market share. 

Business marketing consultants are responsible for conducting research of the market so that they can come up with comprehensive statistics and analyses that businesses can use to improve the demand of their products. Keep reading here to discover how you can become a business marketing consultant and go into business for yourself!

Acquire formal education

Start by acquiring formal education.  You can register with an online marketing course or you can also learn from your local collegiate learning institutions.  Marketing courses are commonly offered in colleges' schools of business.  Ensure to acquire a wide range of marketing techniques applicable in different businesses, including contemporary techniques like digital and Internet marketing, so that you can help clients on multiple platforms.

Get a degree              

If you are intending to hire other marketing consultants or start your own consulting firm, it is highly advisable (but admittedly not required) that you acquire a degree in marketing or business.  A combination of marketing, finance and management courses can be very beneficial since they can help you to learn various aspect of a marketing business. Other courses that will help in becoming a successful marketing consultant are writing (creative and technical), psychology, graphic design, computer applications, economics, humanities (all types), anthropology, product design, and public speaking. While you certainly don't have to take all of these, any of them will help.

Gather experience

Before you decide to venture out on your own, it is advisable to work with a marketing company so that you can learn the ropes of how to go about producing marketable…well, marketing. You will need to acquire applicable skills such as presenting and positioning products and identifying target markets. The reason is because you will need to have a good understanding of the market and the clients that need the products for you to advise your clients accordingly.

Gather clients

Develop your research and problem solving skills so that you can start acquiring clients.  These skills are essential before you approach potential clients since you will at least need to convince them that you have ability to evaluate their problems and offer sound solutions.  You should also prove to the clients that you have the skills to motivate prospective customers to buy their services or products. Here's a tip—you can't just tell them. You're probably going to have to show them.

Learn to create marketing material

Train the business' staff

You will need to network the entire staff of the business to acquire better results.  Train the staff dealing with product packaging, pricing and promotion.  Be prepared to address regulatory challenges as well as government requirements. The consultant should learn to work with the advertising department (or person in charge of advertising, for smaller companies) so that they can help in the development of advertising products bound to create ripples in the market.  Ads should be target-based and appealing to customers so that they will feel compelled to try out the product being advertised.

Diversify your skills
Acquire as much skills as possible from different fields so that you can serve a wide range of clients—here we go again with diversified college coursework.  To market your skills, establish a website where potential clients can learn about your skills and experience, as well as contracted jobs that you have helped to accomplish in the past. Referrals and testimonials from satisfied customers will earn you a lot of business, too.