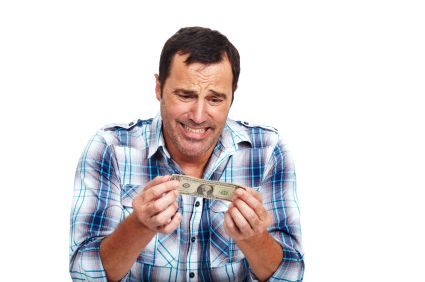 IF YOU WERE to vaguely ask someone to define their fears, the responses you'll receive will most likely be all over the map.   Some may immediately point to Halloween and thoughts of scary creatures or that of haunted houses. Others might refer to actual phobias such as a fear of heights, the dark or even spiders. But just like a dreaded trip to the doctor, most fears can't be avoided forever; and total disregard for the subject won't make it magically disappear either.
In business (or even in your personal life), your financial fears may follow the same path as some of your other fears or phobias. You may ignore them. You may have someone else deal with them; or you may simply struggle through them with great trepidation. So, what are some common financial fears that many entrepreneurs share? Let's look at a handful:
Running out of money before profitability arrives
Investing new money back into the business
Attracting and keeping "buying" customers
Borrowing money / taking out loans
Opening bills / paying bills on time / having enough funds to pay the bills
Invoicing / asking for payments / collecting late fees
Making consistent and appropriate financial decisions on the business
Being able to sell your company for a profit / justifying the amount of sale
Being able to retire at an suitable age / creating an timely exit strategy
Everyone small business owner will eventually be exposed to one or several of the fears just mentioned (or ones similar in nature).  Consequently, facing your financial fears will require a clear understanding of what's actually present, what's controllable, and what might be at stake in every situation you may come across. 

But what if you haven't had much experience in these areas? What if you've previously failed at some of these things? Regardless of the predicament, the initial solution will be to confront your most significant financial fear(s) head-on, place them in the forefront of all actionable activities, and then begin reducing each of them to a manageable size. Taking this course of action will permit you to be more empowered in your situational fears and will begin to lead you toward a positive outcome.  As long as financial trepidation is present, nothing will ever get resolved. Remember, continuing a repetitive approach to your fears will sustain what you already have, which is overall worry and constant indecision.

Confront Your Fears with Relevant Questions

Turn the tables from the unknown (your fears) to the defined (solutions) and begin removing some of the mystery behind the quandaries. Do this by moving your probable fears out in the open before they actually occur by asking a series of questions that may coincide with what you think you might encounter:
 
What is my back-up plan if the business begins to falter?
How much am I willing to invest in my business?
What will be my survival strategy in a slow economy?
How much will I be willing to personally collateralize on a business loan or line of credit?
How much should I budget for expenses and outstanding invoices?
What do I want/need my company to be worth when I sell it?
At what age do I want to retire?
What will be my strategy for attracting and then maintaining a strong customer-base?
Take Action and Be in Control
Asking a series of precise and financially-related questions even before your business launches will force you to look at nearly every financial scenario (and subsequent fear) that could come into play before it actually happens. The result could be that your fears may end up being nothing more than a few logistical roadblocks to overcome.

Throughout the course of this exercise, you may not initially have all of the solutions covered. This is not a big deal. The bigger picture here is that you have undertaken a process to eliminate your financial fears by taking "action." Here are some simple guidelines to follow as you begin assembling your questions and subsequent actionable responses:

Be realistic: Don't understate or overestimate the potential of your new business, especially the financial aspects of the operation.

Set no-nonsense financial goals: It's great to aim high. Wanting your business to exceed to the maximum potential is only natural. However, thinking of the financial facets that surround your organization, these goals must be deemed feasible by not only you, but your partners, investors and even your employees.

Document your existing financial affairs: Knowing and understanding all the ins and outs of the current financial status of your business will determine not only where you've been, but where you might be going. This aids in proper forecasting and proposed budgeting all the way around. Knowing exactly where you really stand, even if it's not a place you want to be, takes the guess-work out of the equation too.

Make financial literacy an ongoing part of your entrepreneurship: Knowing how credit, credit-scoring, banking, lending, investing and even accounting works is one the most significant things you could ever do for yourself or for your business. Empowering yourself to have an upper hand in "all things financial" will also embolden you in making sound financial decisions. 

Involve industry professionals at every turn: When in doubt, turn to the pros. Once you have educated yourself in numerous financial areas of concern, it will be easy to translate those needs and requirements to the professionals that will be able to receive the hand-off from you with minimal confusion. Your financial fears can then be minimized even further knowing that your team of legal, accounting, bookkeeping and banking professionals are keeping a watchful eye on the financially-related elements of your operation.

Your Previous Fears are Now an Action Plan

Facing certain financial fears is something that countless entrepreneurs have experienced. For you (and your small business) the goal will be to turn those negative financial fears into a practice of positive financial oversight. This oversight can be done with confidence if you have a solid and affirmative plan in place to convert those pointless fears. Your new plans will now establish a current (and future) roadmap to follow to keep you on the path to financial success.
Remember, your financial fears may simply be opportunities in disguise. So, be confident, get educated, take action, and then get in control. Success awaits.