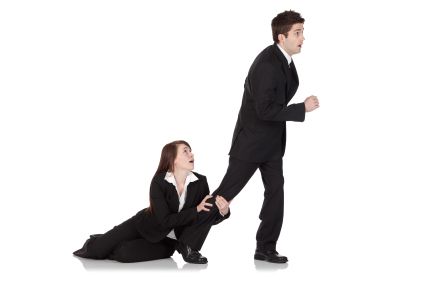 DURING TIMES of economic crisis, there is a high demand for some high-impact performers. These are the exceptionally bright and/or indispensable staff members that are ready to do anything to help the company to succeed in difficult times. Such kinds of staff members have ideas that help the company save money, time and effort. They also have a positive outlook that helps the company keep moving forward.
In order to retain such staff members and keep them from moving on to better paying, bigger companies, it is necessary for the business owner or manager to have good management skills that support their human assets; these should be applied with the same vigor that is usually devoted to the financial assets.
There are some steps that any organization can use to retain good employees. One of the best ways to retain employees is by showing them respect. It is necessary to show them respect, kindness and dignity in order to continue eliciting their loyalty to the organization and the leaders. Even though it is possible to lead people through intimidation and fear, it is difficult to develop and retain people using such a kind of leadership style.
It is necessary to maintain an environment in which any high-impact performer would like to stay. This requires more than enrolling in one-month leadership training. It requires an environment where the staff learns, gets trained, and develops their skills. Through dialogue and inquiry, it is possible for the leader to create such an environment where every staff member thrives.
To retain good employees, it is necessary to offer on-going training and education benefits. This ensures that the staff carries out their duties properly and also improves on the existing systems. You can give the staff an opportunity to cross-train—a situation where they train and experience the company's different aspects. This may act as a competitive advantage where the organization may be required to cut back on its manpower. The cross-trained staff members are able to handle the functions in an organization easily, as compared to those who aren't. Not to mention cross-training adds value to the employees' skill sets, adding value to their resume, moving forward. 
It is also necessary to work with the staff in a coaching relationship in order to discover and tap the talent of individual staff members and direct development. It is important to give feedback to staff in areas such as attaining skills and job training, developing networks and balancing a work/life situation.
An obvious employee retainer is compensation, even though compensation alone is not enough. On top of this, there is a need for people to get involved in the decision-making process. The leader should ask people for input on how the organization can increase effectiveness. This helps to retain key talent in the organization and also generate some great ideas for an improvement of the organization. By developing employees, the company adds value to both the employees and the organization's bottom line. The people who are committed and competent tend to help the company get a financial reward. For those companies that provide an opportunity for growth as well as employee development, they are able to retain the best employees.