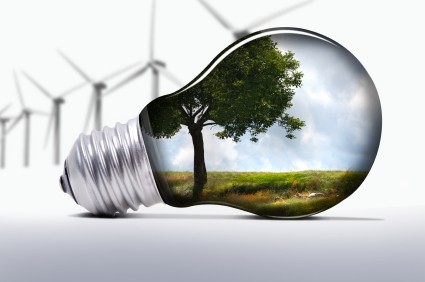 WITH AN EVER GROWING THREAT of climate change and environment destruction, businesses are emphasizing the need to reduce their environmental impact by integrating environmentally-friendly procedures into their operations.  One of the ways companies reduce the environmental threats is through green marketing.  Green marketing is the process by which companies market their products (or their clients' products) in an environmentally-friendly way.  The concept of "going green" gained prominence toward the end of the 1980's and the early 1990's.  

A recent survey shows that nine out of ten people polled in Asia, Europe and America are willing to pay a little more for green products.  It should be noted that there are numerous environmental issues that are impacted by the production of goods and services, so it follows that green marketing focuses on a wide range of issues.  There are a number of successful notable green campaigns.  These campaigns include Method, which is a whole line of environmentally friendly personal care and cleaning products, as well as the Toyota Prius, which was pivotal in the evolution of eco-friendly vehicles.

In addition, The US Green Building Council is a notable "going green" campaigner.  The council provides echo-friendly housing solutions through its "Leadership in Energy and Environmental Design" building program.  There are various green marketing techniques that a company can employ.  Some drastic. Some, not so much. A company may integrate operational sustainability in its ways and means.  This is done in various ways.  Companies can ensure operational sustainability by reducing energy and water consumption in production.  Secondly, companies may seek to minimize pollution and use greener materials either as raw materials or when building offices or industrial complexes.

Companies may also seek to eco-efficiently manage waste. This can be done by treating waste before releasing it so as to minimize the effects that the waste has on the environment.  Another green marketing strategy employed by companies is the production of green products. Companies can 'go green' by adopting various strategies in their product offerings.  For starters, a company may choose to produce its products with sustainable material or seek to produce products which are more natural as compared to products of its competitors.  Another aspect of green products is the packaging aspect.  As packaging gets discarded, green packaging is a huge deal. A company involved in green marketing must ensure that its products are packaged with eco friendly materials which can be composted or recycled.

Sustainable marketing is another avenue for companies to pursue who are looking to get mean and green with their operations. Sustainable marketing involves the use of eco-friendly marketing techniques and channels.  An example of sustainable marketing is when a company uses chlorine-free recycled paper and plant-based dyes in print advertisements.  In addition, the company may use online advertisement which is a 100% eco-friendly method of advertisement.  Lastly, a business may seek to promote environmental causes.  A business may engage in a green campaign by making donations to green campaigns or by advertising for going-green crusaders.