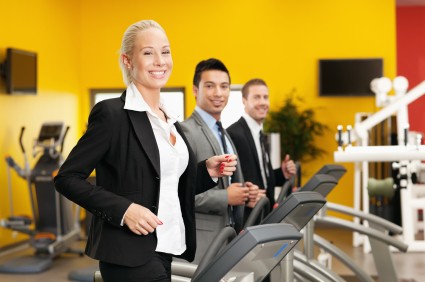 LET'S FACE IT, traveling can be stressful.  Packing, double- and triple-checking flight times, asking yourself a million times, "what did I forget?"  In the midst of the craziness we often neglect nourishing our bodies with good, clean food and opt for something fast and unhealthy.  Eating healthy on-the-go is possible and I am going to show you the simple steps to "Fit-Possible" eating while traveling.  

No more excuses! 

When you are trying to eat healthy on the go, planning is key.  First, you have to decide whether you want to pack food for the airport, hotel, snacks on the go, or all of the above.  Early flights are tough; you are surrounded by simple, fast, but ultimately unhealthy, choices.  Packing your own breakfast, however, can be super quick and easy!  Pick your favorite "healthy" cereal (your undying love for fruit loops is not considered healthy), throw on some raisins or berries, and toss it in your carry-on.  Once you make it to your gate, find the closest coffee chop and buy yourself some low-fat or soy milk, and just like that—breakfast is served.  If packing your breakfast is a foreign concept to you, there are alternatives.  A lot of the fast food chains are now offering oatmeal for breakfast.  Filling up on whole grains, fiber and fruits will keep you fuller longer and give you more energy after your flight.

The second obstacle commonly faced while traveling is the "amazing" complimentary breakfast offered by most hotels.  In actuality, the only "amazing" part of this breakfast is the amount of sugar and calories you can consume in one sitting.  Don't fret; there is almost always oatmeal and fresh fruit  hidden at the end of the breakfast bar, camouflaged by all those sugar laden pastries and powder eggs,  screaming out "pick me! pick me!" just like that kid in gym class that always got picked last for sports. I always pack my own oatmeal and protein powder to make my "proatmeal" just in case the hotel doesn't offer any.  If you have the option to order breakfast, this is the way to go: opt for an egg white omelet packed with veggies, served up with a side of turkey sausage, and fresh fruit. This is sure to leave you satisfied and energized for the day ahead.

Making a few healthier choices while on the road is sure to leave you feeling better upon your return home.  While I am all about eating healthy, it is, after all, your vacation. So go ahead and INDULGE (just not every day)!

I recommend these additional snacks to take with you for healthy travels:
Lara bars
Protein bars
Pre-made protein shakes
Protein bread (recipe found on my webpage)
Mixed nuts (unsalted)
Dried fruit (unsweetened)