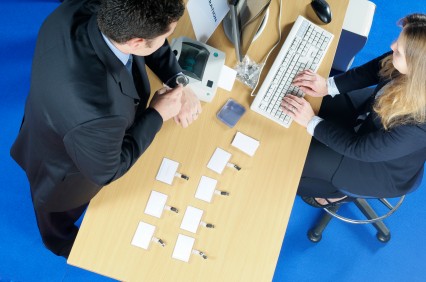 STATE OR NATIONAL ASSOCIATIONS are formed to address the success, interest and welfare of professionals working within a specific sector.  The activities of such associations can cover any geographical range from neighborhood to nation.  It is expected that by addressing the affairs affecting the workers in specific sector, it will be possible to maximize their potential and have a great output in terms of performance. Therefore, joining an association within your profession is regarded as being beneficial in terms of career growth and prospects.  Membership to an association can provide you with leverage in the form of good networking tools, provision of relevant and up-to-date information related to your field, and various opportunities to further your education.  Association membership has been an important facet in promotion consideration for ages.

In the legal field, for example, there is the National Association of Legal Assistants (N.A.L.A.). While I continue to elaborate in-depthly and specifically on N.A.L.A., the greater purpose of this article is the information surrounding the specifics. In general, large (or small) associations are designed and built in the same manner as N.A.L.A. If you don't happen to be a paralegal, as most people reading this aren't, when continuing down the article, understand that associations of the same merit and caliber exist for virtually any profession and the knowledge you gain about N.A.L.A. can be applied to almost any professional association, regardless of the professionals to whom they cater. 

Continuing on, N.A.L.A. was formed to serve the interests of paralegals working within the legal profession.  The span of interest ranges from those who have not received any form of training as paralegals to those who hold different qualifications but wish to advance their qualifications to higher levels. This association is widely known across the legal fraternity within the United States of America.

As the leading association for paralegal staff in the United States, N.A.L.A. provides its members with various networking tools in the following ways; membership meetings, affiliated groups meetings and presentations, and through the annual N.A.L.A. convention and exhibition. For anyone working as a paralegal in the United States, one can establish and sustain significant contacts relative to their work as paralegals through these important avenues.  For example, registered members are offered the opportunities to discuss, in open forums, the association's leadership as well as other matters that are considered to be of relative importance to members of N.A.L.A.

It is noteworthy that it is only through the annual national convention and exhibition that new members are elected to leadership posts within the association, and that it is through these forums where discussions about strategic management of the association are held.  Through attendance and active participation in the activities listed above, members of N.A.L.A. have a variety of networking tools available to them which, if utilized well, can positively impact the career of a paralegal. In addition, N.A.L.A. organizes conferences and seminars through which members get to meet and discuss on various issues emerging within their profession. These forums offer additional avenues through which members can meet and engage.

As previously mentioned, N.A.L.A. plays an important role in facilitating continuing education for its members at all levels of entry.

Since there are many dynamics in the legal profession, the association has, over time, worked to certify paralegals by establishing a certification process which his now respected by the government of the United States and across the legal fraternity.  The main certifications offered through the N.A.L.A. to those who have an interest to work as paralegals include the Certified Legal Assistant (CLA) and the Certified Paralegal Credential (CP). 

Continuing education courses are also available to many of the members. They can make a choice between courses in their current area of practice or from areas in which they would like to work in the future. N.A.L.A. delivers continuing education mainly through short courses and online education that makes the courses convenient for many of the members. By doing this, the association is able to provide valuable information concerning the changes that occur in the legal field.  

To join N.A.L.A., the association provides prospective members with the necessary information relating to what requirements are needed and other important issues in the certification process. This information, for example, includes the minimum entry-level qualifications for the two-certificate programs afore mentioned, the quality of testing centers and their locations to ensure the prospective candidate has the best chance of getting quality training, payment options, the tuition cost, and where to get quality learning materials relevant to the certificate program the person is interested in.

N.A.L.A. membership is divided into four main categories, though the membership benefits enjoyed are uniform in all the four types of membership.  However, an exception is made in that only the active members are allowed to participate in activities such as voting, serving in various committees, or in various capacities such as officers or the director within the association. The four membership categories of N.A.L.A. are active membership, associate membership, student membership, and sustaining membership.  Active membership is open to people and organizations which meet the N.A.L.A. qualification criteria.
Again, N.A.L.A. was simply used as a practical example to illustrate the anatomy and function of the type of professional associations that exist today in a multitude of sizes and to a multitude of professional arenas. The best way to locate a professional association for your field of interest is to consult with your supervisors or professors, or to simple search the Internet for "(insert your field here) professional associations."